Paris Crawford, of Calhoun City, earned third runner-up at the Miss Mississippi Teen USA Pageant in Meridian last week.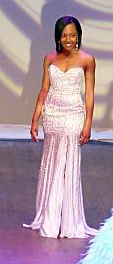 Paris competed in evening gown, swimsuit and personal interview as part of the competition, which is a qualifier for the Miss USA pageant to be held in the Bahamas in August 2010.
Paris is a senior at Calhoun City High School. She is the daughter of Sheila Herrod of Calhoun City and Kelvin Crawford of Buena Vista. She is the granddaughter of Leola Herrod of Calhoun City and Vernice Autry of Buena Vista.