The Calhoun County Fair hits full stride today with the registration of exihibits, the opening of the carnival, and a performance from the "Pretty in Pink Wicked in Spurs" drill team.
Youth and adult exhibits will begin registration on Tuesday, July 17 from 4-7 p.m. The "Pretty in Pink Wicked in Spurs" drill team will perform at 7 p.m. and the Youth Rodeo is set for 7:30 p.m. Tuesday.
Wednesday, July 20 will be highlighted by the annual goat show and the talent show. This year's talent show is open to all ages. Contestants don't have to live in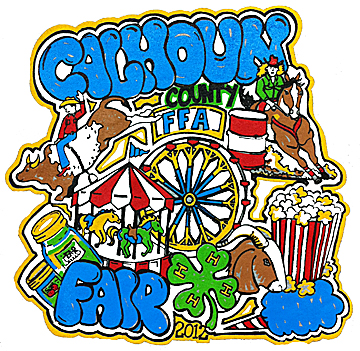 Calhoun County.
Registration of exhibits will also continue on Wednesday.
The exhibit building will open Thursday, July 19 from 5-9 p.m.
Other Thursday highlights will include the biscuit making contest at 5 p.m., the annual pet show at 6 p.m., and the annual Pig Scramble at 7:30 p.m. There will also be a "Pony Pull" at 7 p.m.
The 4-H crock-pot supper will also be held in the multi-purpose building from 5-7 p.m. Thursday.
The big event on Friday, July 20 will be the Professional Cowboy Association (PCA) Rodeo beginning at 7:30 p.m. It will be preceded by the "Pretty in Pink Wicked in Spurs" drill team at 7 p.m.
Saturday, Aug. 1 includes a number of events – round robin roping at 10 a.m., youth cook-off at 10:30 a.m., pea shelling contest at 2 p.m., and the rodeo that night followed by a concert featuring Drew McClaine at 9 p.m.
The carnival will also be returning and will be open Tuesday-Saturday from 6-10 p.m. each night with a wide array of rides for kids of all ages. Armbands can be purchased nightly.
Admission prices for the fair are $2 Monday, Tuesday and Thursday with children five and under admitted free. Admission is free on Wednesday and $5 Friday and Saturday. Admission charges only apply after 5 p.m. each day.
For more information on the Calhoun County Fair, call the extension office at 412-3177.