By JOEL McNEECE
Calhoun Academy is shooting to win the school's first Class A Golf State Championship next Monday at Dogwood in Grenada.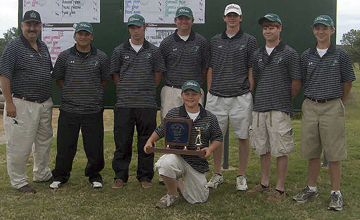 The Cougars won the North Half Title this past Monday in Oxford with a team score of 343. Winona Christian was their closest competitor shooting a 386.
Hunter Harmon earned overall medalist with a 78. Harmon has earned medalist in four of the Cougars' six tournaments this year.
Warner Jones placed third overall at North half with an 84. He earned medalist in one of the two Harmon didn't win.
Other Cougar golfers included Taylor Shoemake, whose 88 earned him fourth overall at North Half, W.D. Newlin, Alan Woodcock, and J.T. Washington.
The Cougars enter the state tournament having placed first or second in five of their six matches this season.
This is the team's fourth consecutive trip to state. They finished third overall at state last year. Harmon was second overall individually.
Prentiss Christian appears to be the team's primary competition, having won the South Tournament with a team score of 323 on their home course.
The Cougar golfers are confident they can play better than they did at North Half.
"If we play like we're capable of we can win state," Jones said.