We got some disappointing news for subscribers to The Journal with 388 zip codes. The post office tells us that due to the closing of the Tupelo mail facility, newspapers that were arriving in one day, will now take two. That will affect subscribers in Houston, Pontotoc and others with 388 zips.
I can't begin to explain how frustrating it is to deal with these issues. The bottom line is that we have no control over it.
***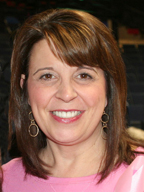 Monday is a postal holiday, bank holiday, no schools and possibly other closings for Martin Luther King Day.
***
If you haven't paid your Journal subscription for 2013, you will only get a couple of more issues of the paper. If you are not sure, check your label or feel free to call us at 662-983-2570 or email: calhouncountyjournal@gmail.com.
***
The icy weather didn't affect us in Calhoun county Monday other than watching for it. It was miserably cold and wet, but that's about it.
Although snow is pretty rare here, I decided I never want to live anywhere there is not at least a possibility of snow.
***
Suzanne Oakley, of Bruce, is starring in an upcoming production of Tupelo Community Theatre – The 25th Annual Putnam County Spelling Bee.
Suzanne will play the role of Rona Lisa Peretti, the host of the spelling bee. All the "children" who spell in the production are played by adults.
The play will be presented January 31, February 1 and 2 at 7:30 p.m. There is also a matinee show Saturday, Feb. 2 at 2 p.m. It will also be presented in competition at Mississippi Theatre Association Festival in Columbus this weekend.
Suzanne is guidance counselor at Calhoun City High School.
***
A man writing a book about his ancestors in Calhoun County is seeking help from locals.
Aaron James is seeking anecdotes and family input in the book on the families of Anglin, Brown, Hollingsworth, Howell, Johnson and Nix.
James' dad Jack Hol-lingsworth, who died in 2010, grew up on his Granddaddy Anglin's farm and called Vardaman home.
James is especially hoping to get stories of his grandfather, Aaron Hollingsworth, who died in 1953.
His book, A Family Perspective, to be published next year, will trace his family from early 1600s Colonial Virginia, thru Mississippi and into 1950s Memphis.
James is the great-grandson of Arrice and Irene Brown Anglin, who died in 1980 and 1979; and William Alfred and Ophelia Nix Hollingsworth who lived in the Loyd Community.
You may email him at ajarchmem@yahoo.com or go to his facebook page: www.facebook.com/AmericaAFamilyPerspective.