Jessica, Janey Laine, and Jeremy Aron, of Bruce, were members of the Chicks with Sticks softball team that finished third in the 2010 USFA World Series in Panama City Beach FL, July 11-17.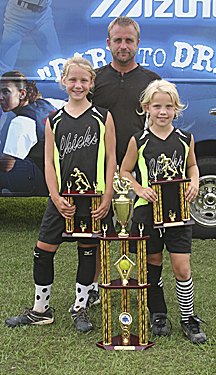 They were one of  64 teams from across the Southern United States competing.
The team consisted of 12 girls playing together since last September. They had accumulated an overall record of 63 wins, 21 losses, and two ties.
They competed in 14 tournaments, placing either first or second in 11 of them. In these tournaments they have beaten teams from eight different states – Texas, Louisiana, Arkansas, Tennessee, Alabama, Georgia, Kentucky, and Mississippi,
The World Series lasted a week and the Chicks finished the tournament with a 6-3-1 record. They went 1-1-1 in pool play, then won their first six bracket games before losing the final two in the championship bracket.
Pictured, from left, are Jessica, Jeremy and Janey Laine Aron.