By JOEL McNEECE
As of this morning, the death toll across the South had topped 200 from the series of deadly tornadoes that ripped through the region on Wednesday. Calhoun County, for the most part, was spared from the destruction.
The hardest hit area was in Bentley where the James McFall house suffered major damage.
"We could see it coming in the distance," Mrs. McFall said. "The tornado would come down and hit the ground and then bounce back up. We just did get the door closed on the shelter before it hit the house."

Half of the roof was ripped off the McFall's house on CR 477. Their storage shed was completely flattened and their barn heavily damaged.
Alan "Squirrel" Neal's trailer was also damaged nearby.
Trees, mostly snapped off at the trunk, blocked the roads in the area. Supervisor Barney Wade's crews were busy for hours trying to clear a path.
"We had just got back from Cumberland when we were told of the damage out here," Wade said.
Fallen trees was the most significant damage elsewhere, many across roadways, but the county was spared any loss of life or significant property destruction.
That wasn't the case in the surrounding area.
Lafayette and Webster counties were among the first hit in the region. East Webster High School in Cumberland was completely destroyed by a tornado that struck around 3-4 a.m. The hardest hit were the 7-12th grade school building and all of the athletic faciltiies.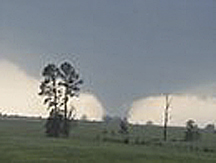 Calhoun County supervisor crews and other volunteers traveled to Cumberland early Wednesday morning to try and help clear roads.
"It was something else," Supervisor Barney Wade said. "You really feel for them."
Later in the morning Lafayettte County took a hit with several tornadoes spotted around Oxford. The Lafayette County Industrial Park appeared to be hardest hit where the Winchester and Caterpillar plants, both of whom employ Calhoun Countians, were among those that suffered damage.
Reports then began coming in from Chickasaw County where tornadoes touched down south of Houston near the Anchor Community and east of town. Several Calhoun County Fire Department units were dispatched to Houston to assist with devastation there.
The most devastated community in Northeast Mississippi was Smithville, just north of Amory in Monroe County. Early reports suggested more than 10 people were killed in the storm with the possibility of that number growing as officials sort through the large piles of debris.

As of 8:30 p.m. Wednesday, the Mississippi Emergency Manaement Agency had reported deaths in Monroe, Choctaw, Jasper, Kemper, Lafayette, Pike, Smith, Webster and Yazoo counties as a result of the tornadoes.
The first tornado picture was made by Janie James in Bentley.
The picture of the McFall house in Bentley was made by Joel McNeece
The second tornado picture was made by Bruce native Jay Bullard, of Houston, near the Anchor Community.
The bottom tornado picture was made by Dawn Huffman going toward Woodland.