Laura Wells Brower, Jody and Casey Clark, and Abby Hillhouse Rea, all of Bruce, participated in a half triathlon at Delta?State University last Saturday.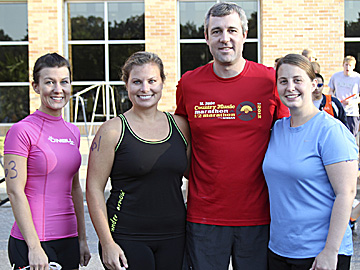 Their times were: 2:01; 1:52; 1:40 and 2:16. This was the Clarks' second half triathlon to participate in together, and Casey's fourth this year.
A first for Brower and Rea, they placed 1st and 2nd in their age group.
They swam 500 yards, biked 18 miles and ended with running a 5K.
In other running news, Ginger Cook and Jennifer Clark were 3rd place winners in their age groups in a 5K midnight run in Winfield, Al. last Friday night.
Photo by Celia D. Hillhouse