Calhoun City continued its dominance of the 2012 powerlifting season by following up its boys' and girls North Half Championships with a pair of state championships last Saturday in Jackson.
It was the second powerlifting state title for the boys and the first for the girls.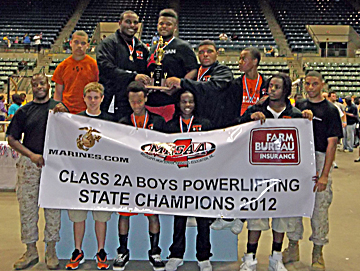 "Over the past four years we have won four north championships and two state championships," Calhoun City Powerlifting Coach Perry Liles said. "Our emphasis has been to use powerlifting as our strength program to improve the other sports. We just pick the best 12 athletes that will give us the best chance to win the state meet. All football and baseball players actually workout with this system."
"We have had consistent leadership from our older guys – Rokedrick Mays, Raheem Roberson, and Kardevin Thomas," Liles said. "It is obvious because they all placed first in the second half of the meet.  We were behind after the first session. It was a total team effort with all lifters doing their part."
The Wildcats had five lifters to place first in the state meet. Kemon Hall won the 114 pound class replacing Steele Liles, last year's state champion in that class.
Eighth grader Micheal Roberson had an 880 pound total to win the 123 pound class.
Raheem Roberson won the 275 pound class in a close contest.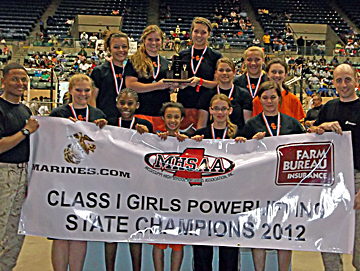 Rokedrick Mays had lifts of 625 squat, 300 bench press, and 635 deadlift to win the 308 pound class and become a three time state champion.
Kardevin Thomas won his first state championship in the super heavy weight class. He had a big squat of 565 pounds.
The Lady Wildcats were equally dominant in winning their first state title.
"For the past three years, our girls have been competing against 3A teams in class I," Liles said. "Lindsey Liles was the only girl from Calhoun City to make it to the state meet the previous three years. This year class I girls was made up of only 1A and 2A schools. This change by the MHSAA should help more smaller schools participate. We had 10 girls to make it to the state meet this year, made up mostly of softball players, cheerleaders, and young basketball players."
Liles said several of the key lifters were young athletes in the smaller weight classes.
Baronica Lawrence won the 97 pound class. MyKeria Holland won the 105 pound class and Alicia Feliciano won the 114 pound class. All three girls are in the 7th grade.
Shannon King, a four year letterman, won the 123 pound class.
Courtny Norman won the 198 pound class setting a new Class I bench press record of 150 pounds.
Ty Burton, Reagan Hardin, Taylor Seiler, and Kasey Hodge all placed second in their respective weight classes.  Heather Mabry placed third.
It was only the third time for a school to win both the girls' and boys' state powerlifting championships in the same year. McClain did it in 2009 and Pearl in 2011.
"I would like to congratulate and thank our coaching staff of Travis England, Angie Owen and Josh Hegwood for a job well done," Liles said.