Calhoun City was the lone Calhoun County team to earn a win Friday night. The Wildcats defeated Eupora 27-20 to clinch the region 4-2A title.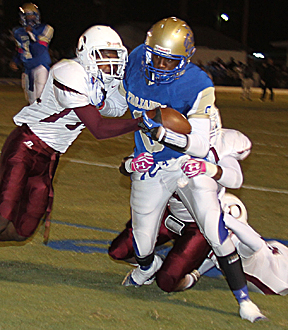 Cartin McBride and Brieton Sykes each scored two touchdowns for the Wildcats. Both of McBride's were on the ground. Sykes had a receiving touchdown and an interception return for a score.
The Wildcats will finish the regular season next week at Okolona.
Bruce lost to Okolona 41-39 in overtime at Homecoming at Trojan Field.
The teams traded scores all night heading into overtime. The Chieftains scored first in overtime on a J.C. Buchanan run. Dequin Babbitt then punched in the two point conversion forcing the Trojans to match to force a second overtime.

QB Donta Armstrong scored the touchdown on a 6-yard run, but the 2-point try was stopped when Jay Johnson, carrying around right end was stopped a foot short of the goal line.
The Trojans have an off week next week and will then begin playoff action Nov. 8. They will likely be on the road for that game but won't know for certain until next week's games are complete. They could finish anywhere from second to fourth in the region.
In other action last night, Calhoun Academy lost to number one ranked Sharkey 50-22.
Vardaman remained winless on the season with a 63-0 loss at Coffeeville.