Calhoun City improved to 1-1 in region play with an easy 49-6 win at Walnut last Friday.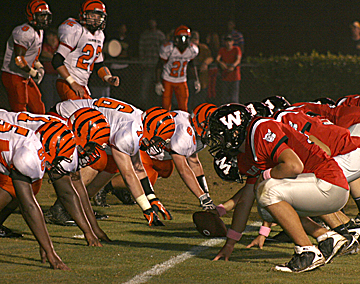 QB Chakel Gates accounted for three touchdowns with two by air and one on the ground.
Ryne Lee, 10 yards, and Lavarious Varnado, 30 yards, had the two touchdown receptions.
Cartin McBride led the defense with 10 tackles and 330 pound nose tackle KarDevin Thomas had six.
"KarDevin's really playing well," Calhoun City Coach Perry Liles said. "Most teams run wide on us, so it says a lot for him to have six tackles."
Sophomore LB Jadarius Glass also had a big game returning a fumble 22 yards for a touchdown to go with a sack and a pass break-up.
"I thought it was a good night for us," Liles said. "We didn't turn the ball over and we got a chance to play a lot of players and really evaluate a lot of kids."
The Wildcats are on the road again this week when they travel to Okolona.
"They're a really athletic team that can beat you if you don't take care of business," Liles said.
It's a pivotal game for the Wildcats as they look to remain in the hunt for the 1-2A title.
"This will lock us in for at least a three seed in the playoffs," Liles said. "Okolona's definitely a playoff team so this will be an important game for us."