By JOEL McNEECE
Calhoun City amassed nearly 500 yards of offense while holding Walnut to only 150 in a 37-0 blowout for Homecoming last Friday.

Shaquille Perry, Walnut's highly rated RB, could muster only 67 yards against the Wildcat defense. Calhoun City's Avery Hill rushed for 162 yards and Lavarious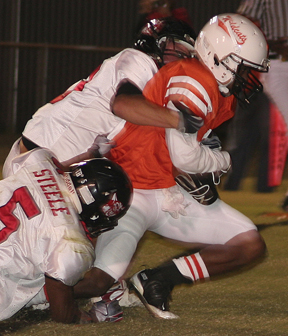 Varnado added 92.
Wildcat QB?J.R. Rennings completed 10-16 passes for 231 yards.
It took the Wildcats only six plays to crack the scoreboard. Aaron Thompson scored on a 25-yard pass from Jennings for the 6-0 lead.
Thompson scored next on an 11-yard pass from Jennings. The touchdown was set up by a 51-yard run by Hill.
Varnado added a 2-yard run to cap an 80-yard scoring drive minutes later. A 24-yard touchdown pass from Jennings to Tavion Primer put the Wildcats up 25-0.
A four yard run by Hill and a 34-yard fumble return by Cartin McBride accounted for the final two touchdowns.
Aaron Thompson led the defense with nine tackles. Tevin Hall recorded eight and Arsenio Lee seven. Lee, Demarius Howard and Tray Pratt each had interceptions.
"I was pleased with the way the players handled the game Friday," Calhoun City Coach Perry Liles said. "We had several reasons to be distracted, but we played very hard. Our defense did a great job in stopping their offense. To get a shutout against Walnut was impressive. Offensively, we moved the ball in the air and on the ground. We accomplished our goal by winning the region."
The second-ranked Wildcats will host rival Bruce Thursday night at 7 p.m. to complete the regular season.
"Bruce always brings a challenge to Calhoun City," Liles said. "They are very talented with many threats. I know it will be a great game that is important to both teams and communities."
'City will open the playoffs at home next week against the winner of Friday's Hamilton-JZ?George game.