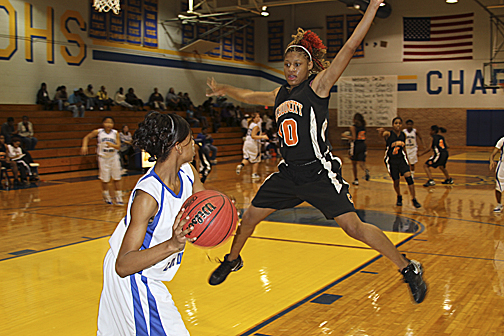 Calhoun City boys' and girls' teams both earned wins Wednesday over Ashland in the Oxford Tournament. Pictured is Lady Wildcat Yasmine Pulliam denying an inbounds pass. Pulliam scored 21 points to lead all scorers in the Lady Wildcats' 60-43 win. Photo by Joel McNeece
By JOEL McNEECE
Calhoun City picked up two important wins Wednesday afternoon against Ashland in the Oxford Tournament.
The Lady Wildcats dominated Ashland in a 60-43 win. Yasmine Pulliam led all scorers with 21 points for the Lady 'Cats.
The boys' game was much tighter down the stretch with the Wildcats pulling out a 71-64 victory. The Wildcats led by as many as 15 early in the second half, only to see Ashland rally to within one point in the closing minutes.
Demarius Howard, pictured, led 'City with 24 points. Tabarrius Coffey scored 20.
Both teams play again at 10 a.m. and 11:30 a.m. in Oxford on Thursday.