Calhoun City swept Class 5A Lake Cormorant Friday afternoon at the Holiday Classic in Coldwater.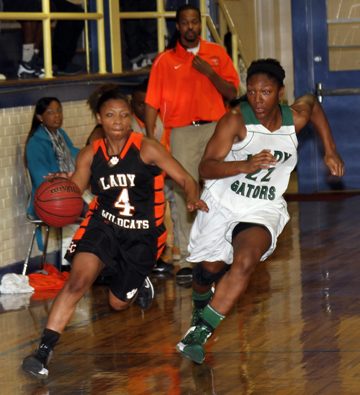 The Lady Wildcats blew away the Lady Gators 58-39.
A close game in the opening period, the Lady Wildcats press began to wear down Lake Cormorant.
'City opened a 9-point lead at the half and dominated the final two periods.
Santanna McKissick finished as top scorer for the Lady 'Cats with 17 points. Antonique Jennings had 14, Destiny Bush 12 and V. Farmer eight.
The Wildcats found themselves in a much tougher matchup. Trailing most of the game, the Wildcats relentless defense forced enough turnovers late that they converted into points to earn a 73-30 win.
Austin Burl, who hit a three at the buzzer at the end of the third period, led the 'Cats with 19 points.
Calhoun City traveled to Memphis Saturday where they swept a pair of games against Eupora at the FedEx Forum.
The Wildcats won 64-59. Andrekus Ezell scored 13. Austin Burl and Lavorious Varnado each scored 11.
The Lady Wildcats won 56-36. V. Farmer led all scorers with 22 points. Destiny Bush scored nine and Alison Childs 8.