Calhoun City rallied from a 6-1 deficit to defeat rival Bruce 7-6 in extra innings last Friday night to clinch the region title and a number one seed entering the upcoming 2A playoffs.
The Wildcats scored two in the sixth to pull within 6-3 and then three in the seventh to tie the game at six and force extra innings.
After the Trojans went down in order in the top of the eighth, Travone Petty lead off the bottom half of the inning drawing a walk and then Rainer Nichols was hit by a pitch putting the game-winning run in scoring position. Ryne Lee then dropped a bloop single just over first base and inside the right field line to bring Petty home sparking a big celebration at home plate.
"It was awesome. I'm glad I got it," Lee said of the game-winning single. "This win means a lot. Coach has pushed us really hard. He's on us all the time. We deserve it. We're here. We're going to go far and do good."
Calhoun City Coach Josh Miller said a come-from-behind win like this was exactly what his team needed heading toward the post season.
"We talked this week that it's going to take a come-from-behind win, because every team that goes far, just like Bruce did last year, it takes a win like this," Miller said. "I thought we should have won the game in the seventh. We didn't pitch well enough to win the game. We hit some balls hard early that they caught. Hats off to them. I thought they played really well."
Bruce Coach Josh Dowdy said he was pleased with the improvement from the last Calhoun City game.
"At least it was different from the last game. The last game we beat ourselves with walks and hit batters," Dowdy said. "We played really good. Calhoun City did a good job coming back. We knew coming into this game it was going to be a big one. We needed a win and didn't get it, but we'll go back to work tomorrow. As I recall things didn't work out too well (in this game) last year either."
Dowdy had several conferences with the umpires during the game over calls he believed were very "questionable," which continued after the game.
"I honestly feel like some things didn't go our way that should have," Dowdy said. "I'm disappointed how two officials can take a game out of my kids' hands. We played our tails off to let that be the outcome of the game. I'm so proud of our guys."
Bruce jumped out to an early 3-0 lead in the first when Taylor Shoemake hit a line drive, 3-run home run after back-to-back singles by Trey Hall and Rashad Turner.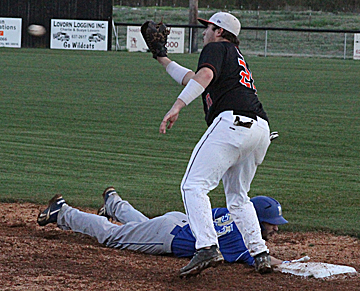 'City cut the lead to 3-1 when Jordan England singled home a run in the fourth.
Bruce stretched the lead to 6-1 in the fifth after loading the bases on three walks to open the frame. Brandon Williams delivered a sacrifice fly and two more runs scored on errors.
The Wildcats pulled to within 6-3 in the sixth after a leadoff double by Ryne Lee and a single by Chakel Gates, who scored a few batters later on a single by England.
Rainer Nichols started the seventh inning rally with a one-out walk and Lee and Gates followed with doubles to cut the score to 6-5. After a walk and hit batter loaded the bases, Gates scored the game-tying run on a wild pitch.
Colby Havens earned the win for Calhoun City pitching in relief of starter Brooks Goodson. Joseph Lester took the loss for Bruce. Taylor Shoemake started the game for the Trojans. Trey Hall also pitched in relief.
The Wildcats will finish the regular season with a game at Potts Camp on Friday and then home games with East Webster Saturday and Walnut next Tuesday. Calhoun City will have a first round bye in the playoffs.
"We've worked hard every day this year," Miller said. "Our goal wasn't really to win the region, but to get in the playoffs and then take it one game at a time."
Bruce is scheduled to host Hickory Flat Friday and play at Houston Saturday. They will finish the regular season with a home-and-home with Eupora later next week before post season play.