Calhoun City won a back-and-forth ball game 8-7 Thursday night over the Bruce Lady Trojans in the first district matchup between the two teams.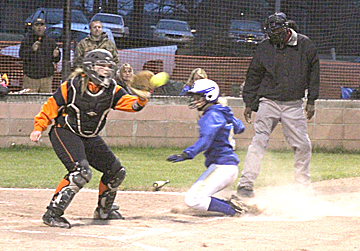 The game was tied at three heading to the bottom of the sixth when the Lady Wildcats plated three runs to take a 6-3 lead into the seventh.
The Lady Trojans answered with four runs of their own to take a 7-6 lead in the bottom of the inning where 'City railed for two and the 8-7 win.
Ty Burton, 3-4, earned the win for the Lady Wildcats allowing seven hits and three earned runs while striking out four.
Abbie Patton took the loss for Bruce. She allowed only two earned runs.
Alison Childs led the 'City offense with two hits, including a double, and three runs scored. Ty Burton had two singles and an RBI.
Summer Mulkey and Morgan Ellard both had big offensive nights for Bruce. Mulkey had three hits in the game, including a double. Ellard hit two doubles. Laken Shankle added a triple.