Calhoun City improved to 2-0 on the season with a 30-13 win over Houston at the Boneyard.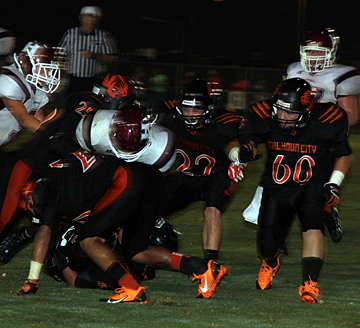 The Wildcats opened the scoring with a 15-yard pass from QB Chakel Gates to Lavarious Varnado for a 6-0 lead.
Gates increased the lead to 12-0 with a 78 yard run for a touchdown on the Wildcats' next possession.

Houston scored late in the quarter to pull within 12-6, but took the lead early in the second quarter on a 33-yard touchdown run and a successful extra point.
The Wildcats reclaimed the lead just before halftime with a 5-yard scoring pass from Gates to Varnado. The conversion was again no good for an 18-13 score a the break.
Calhoun City pulled away in the third quarter when Gates and Varnado hooked up for the third time. The combination reached the end zone on a 17-yard pass play for a 24-13 lead.
Gates would pass to Brieton Sykes for a 70-yard touchdown later in the third quarter for the 30-13 lead.
Calhoun City will go back on the road next week when they visit unbeaten Water Valley.