Calhoun City converted a 2-point conversion in overtime to earn its sixth straight win over rival Bruce 15-14 at D.L. Harrison Field Friday night.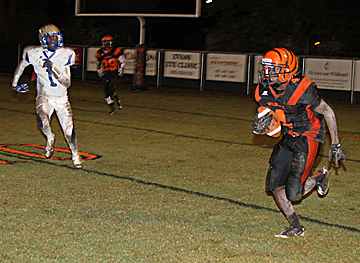 "We really believe," Calhoun City Coach Perry Liles said. "We watched a video before the game about you've got to want to win like you want to breathe and that's what we did. They would not be denied."
The Wildcats improved their playoff positioning with the win. They will now be a two seed in the playoffs and host a first round playoff game next Friday. Despite the loss, Bruce will win the region title on tiebreaker and be a one-seed.
Playoff seeding, however, wasn't the motivation for the Wildcats.
"Everybody said we couldn't do it, but we did," said Wildcat RB Lavarious Varnado, who scored the game winning 2-point conversion in overtime. "We played four quarters today, gave it all we got."
Bruce entered the game averaging more than 40 points a game. Despite outgaining the Wildcats 357-218, the Trojans couldn't turn their drives into points.
"The defense really came through for us," Liles said. "We stopped a really good offense."
Bruce QB Davis Brown completed 13-32 passes for 225 yards, two touchdowns and two interceptions. Zay Armstrong led the ground game with 91 yards on 17 carries.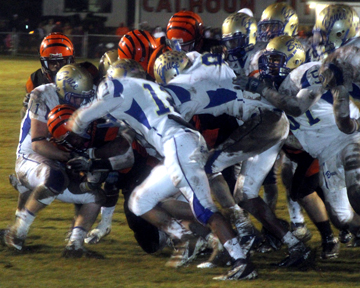 The Bruce defense limited the Wildcat offense most of the night. Calhoun City QB Chakel Gates rushed for 132 yards on 19 carries and was 7-15 passing for 51 yards with two interceptions.
The Wildcats' first score came on their second possession of the game when Brieton Sykes took a handoff from Gates and threw to an open Travone Petty on the goal line for a 38-yard touchdown. Jordan England's extra point put 'City in front 7-0.
That would hold up until the final four minutes of the game when Brown hit Shaq Bush crossing over the middle of the field and he outran the secondary to the end zone for a 77-yard score. Bush, who finished with seven catches for 145 yards and two touchdowns, kicked the extra point to tie the game at seven.
Bruce had the ball first in overtime and Brown hit Bush in the corner of the end zone on third and goal for the score. Bush kicked the extra point for a 14-7 Trojan lead.
The Wildcats then took possession and turned to Lavarious Varnado. After a six yard run on first down and an offsides penalty on Bruce, Varnado powered into the end zone from 2-yards out on second down to pull the Wildcats within 14-13.
From there, Liles didn't hesitate to go for the win.
"We decided to go for two on first down," Liles said. "We added a little jumbo package they hadn't seen. We knew we would go for two and get this thing done."
Gates handed off to Varnado who drove through the defense across the goal line sparking an orange and black celebration.
"This feels great," Gates said. "We knew we could do it."
Bruce Coach James Ray said the Trojans will now have to put this loss behind them and move forward with obtaining their goals in the post season.
"We have to get over this hurt and it is a hurt," Ray said. "We have a great group of kids. They're resilient and they'll be ready to go to work on Monday. We are the number one team, even though it doesn't feel like it tonight."