Calhoun City locked up a playoff spot with a 20-6 win at Okolona Friday night.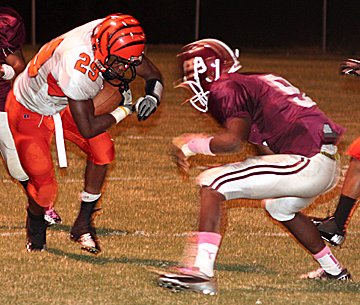 The Wildcats, 5-4 overall and 2-1 in region play, host Hatley next week for homecoming before concluding the season with Bruce.
Calhoun City opened the scoring Friday night at Okolona with a 7-play, 73-yard touchdown drive. QB Chakle Gates recorded the score on a 7-yard run.
A bad snap on the extra point kept the score 6-0 and Okolona responded on the ensuing possession with a 75-yard scoring drive ending with a 1-yard touchdown run by Jacolbi Heard to tie the game at six.
Calhoun City then responded with a 70-yard touchdown march. The big plays on the drive were a 10-yard run by Gates, a 15-yard run by Brieton Sykes and a 10-yard pass from Gates to Travone Petty.
Cartin McBride scored the touchdown and Jordan England's extra point lifted the Wildcats to a 13-6 lead.
Okolona answered again with a long drive but Jordan Pratt ended it with an interception in the end zone.
The Wildcats opened the game up early fourth quarter when Brieton Sykes capped a 54-yard drive with a 16-yard touchdown run for a 20-6 lead.
The Wildcats stuffed the Chieftains on their final two possessions to preserve the victory.