Calhoun City won the Girls' 2A North State Powerlifting Championship Monday with 11 lifters advancing to the state championship. Bruce finished second with 10 advancing.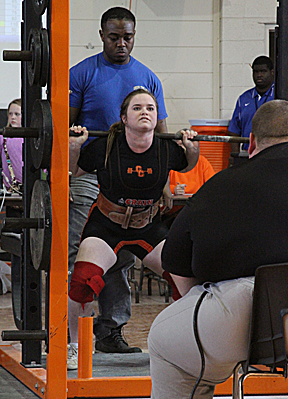 McAdams finished third in the competition of seven teams made up of 54 total lifters.
First place finishers from Calhoun City were Laquiana Norris, Alicia Feliciano, Antonique Jennings, Reagan Hardin, and Courtny Norman.
Bruce's first place finishers were Shelby Leachman, Emily Morris, Tamara Talford, and Essence Armstrong.
The top three finishers in each weight class advance to state. Other Bruce and Calhoun City lifters advancing are Baronica Lawrence, Mykeria Holland, Shannon King, Heather Mabry, Kiara McKissick, and Kasey Hodge of Calhoun City; Laken Shankle, Khadijah Thompson, Nichole Taylor, Jakina Steen, Keyonia McGuirt, and Jasmine Flemons of Bruce.
North Half for the boys was held on Saturday with Calhoun City earning second to East Union and Bruce fourth behind Eupora.
First place finishers for Calhoun City were Cartin McBride, Ja'Shone Coleman, Noah Hill and Kardevin Thomas. Other Wildcats advancing to state are Keshun Roberson, Steele Liles, Jaleen Thomas, and Keeshun Bobo.
The only first place finisher for Bruce was Heriberto Ramilez Jr. Others advancing to state are Kyreecus Welch, Latrell Marks, and Girraud Mingo.