Calhoun City completed their non-region schedule Friday night with a 43-14 home loss to Amory.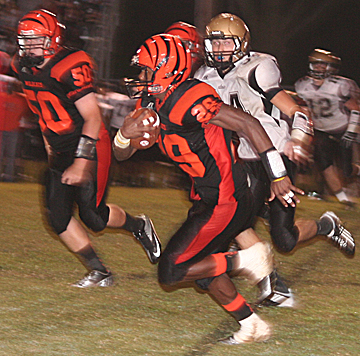 The Wildcats, 3-3 on the season, trailed 28-0 in the second quarter before scoring their first points. 'City drove 65 yards in eight plays for the score. The big plays on the drive included a 15-yard pass from QB Chakel Gates to Heath Browning, an 11-yard run by Lavarious Varnado, and a 16 yard run by Gates.
Gates scored the touchdown on a 4-yard run. The extra point was blocked for a 28-6 score late in the second quarter.
Amory added another touchdown to take a 36-6 lead at the half.
The Wildcats' second possession of the third quarter resulted in a touchdown. 'City drove 89 yards in 12 plays. Gates ran five times for 44 yards on the drive, including a 7-yard run for the touchdown. He also scored on the 2-point conversion for a 36-14 score.
The Wildcats drove to the Amory 20 on their next possession before turning it over on downs.
Amory's last score came on a 90-yard interception return.
Calhoun City opens region play next Friday at home against Baldwyn.