Calhoun City spotted previously unbeaten Eupora an early field goal and then outscored them 27-3 to cruise to their second straight victory.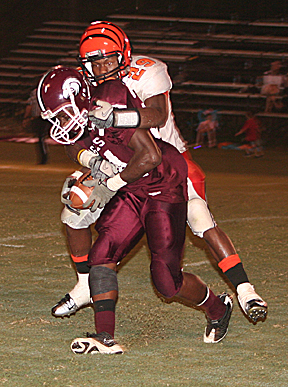 The Eagles opened the game with a 49-yard drive ending in a 35-yard field goal by Lewis Justin.
The Wildcats, 3-2, responded with an 87-yard touchdown drive highlighted by an 18-yard pass from Chakel Gates to Travone Petty and a 13-yard run by Lavarious Varnado. Gates capped the 17-play drive, that included two fourth down conversions, with a 2-yard touchdown run. Jordan England added the extra point and Calhoun City took a 7-3 lead they would never relinquish.
Jaalen Thomas recovered a fumble on the ensuing kickoff to give the Wildcats the ball at the Eupora 42 yard line. After a big run by Cartin McBride and a 26-yard pass from Gates to Varnado, Gates punched it in the end zone from three yards out for a 13-3 lead.
A Eupora interception set up the first score of the second half – a 27-yard field goal by Justin.
Calhoun City got on the board in the third quarter with a 5-play, 68-yard touchdown drive. Gates scored on a 19-yard run to lift the Wildcats to a 20-6 lead in the closing minute of the third quarter.
The Wildcats stopped the next Eupora drive when Brieton Sykes tipped an Eagle pass and McBride pulled it in for an interception.
A 38-yard run by McBride began the ensuing 81-yard touchdown drive that ended with a 1-yard scoring run by Gates. England's extra point gave the Wildcats the 27-6 lead.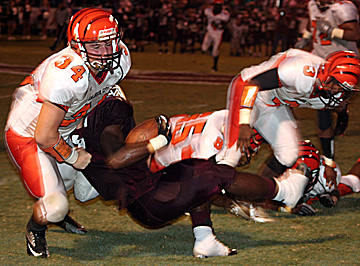 Jordan Pratt ended Eupora's last possession with an interception allowing the offense to run out the remaining two minutes.
Calhoun City returns home this Friday to face Amory.