Calhoun City continued its dominance of Class 2A opponents Friday night as they thrashed Baldwyn 47-20 to advance to the state championship game next Friday in Starkville.


The Wildcats, 14-1, will face Bay Springs at 3 p.m. Friday, Dec. 2 in Davis-Wade Stadium on the MSU campus. Bay Springs defeated Bassfield 18-12 Friday night in the South Half Championship.
"This feels great, but we have to stay focused," Calhoun City QB Jo Gray said. "We definitely expect a four quarter battle next week."
Calhoun City was never threatened by Baldwyn Friday. The Wildcats took an 8-0 lead in the first 40 seconds of the game when Treshone Cooper hit Tyrese Quinn with an 85-yard touchdown pass. A Cooper interception would set up the next score – a 13-yard touchdown run by Jessie Nabors for a 14-0 lead. Nabors would add a 24 yard touchdown run minutes later for a 20-0 advantage.
"We had great execution all night," Nabors said. "We had great practice all week and it showed tonight."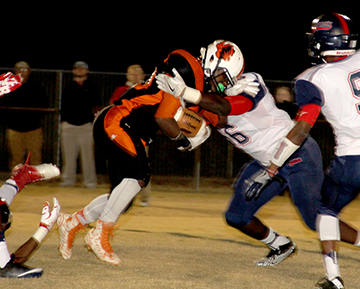 Baldwyn's only points of the first half came midway through the second quarter when the Wildcats mishandled a hand-off and fumbled in the end zone and the Bearcats recovered. Otherwise, the defense dominated. The Wildcats starting defense has yet to surrender a single point this post season.
"They're a good team. We just read our keys and played hard like we always do," 'City LB Atarius Moore said.
Keshun Parker, who ran through countless attempted tackles by the Bearcats on the night, scored on a 63-yard touchdown run in the second quarter. Moore would block a Baldwyn punt, his fourth of the season, on the ensuing possession to set up a 3-yard scoring run by Parker.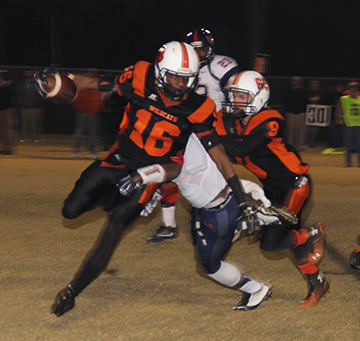 "Our defense was better tonight and our offense was better," Parker said of the Baldwyn win. "That's just the truth."
The Wildcats weren't done in the first half. Cooper broke through the line and raced 64 yards for a touchdown in the final two minutes for a 40-7 halftime score.
Anfernee Campbell would account for the Wildcats' second half touchdown on a 1-yard run. The Bearcats would score two touchdowns late in the fourth quarter on the Wildcats JV defense.
In the postgame huddle, Coach Perry Liles urged his Wildcats "one more time," suggesting they finish the job of winning a state title next week.
"God has blessed this team with really great talent," Liles said.