Sunny skies are forecast for this Saturday, May 25 when Calhoun City will host its annual Arts and Crafts Festival on the 'City Square.
Vendors offering a wide assortment of arts and crafts, food options and games for children will cover the Square beginning early Saturday morning.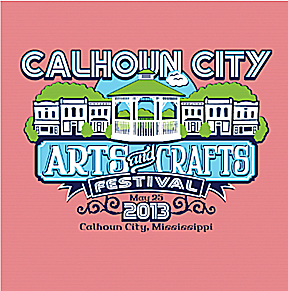 Among the items scheduled to be available from vendors are: crotchet clothes items, jewelry, handmade pillows, hair accessories, personalized car tags, home decor, Christian t-shirts, "Scentsy," wood crosses, metal flowers, clothing, purses, wallets, painted burlap, homemade birdhouses, picture frames, wind-chimes, Coke bottle flowers, paintings, drawings and much more.
"We're really excited about the variety offered by this year's vendors," Chamber President Laura Edwards said.
Among the kids' attractions scheduled are a number of games from vendors, fun jumpers and rides on the "Redneck" train.
The food options will include snoballs, corndogs, funnel cakes, "Tator Twister," frozen  drinks, porkskins, grilled chicken plate, BBQ plates, hamburgers and hot dogs.
There will also be live entertainment throughout the day. Among the scheduled entertainers are A.D. Blount, Lyrix, Jada Melton and more.
Festival t-shirts are available now at the chamber office in the alley beside Beasley Insurance and at Laura Edwards' Accounting office. Sizes are available from youth to 3X.
"We're looking forward to a great day on the Square and invite everyone to come out and enjoy the fun, food and fellowship," Edwards said.
In addition to the many activities on the square, Pryor Funeral Home will host its annual Memorial service at 9:30 a.m. in the funeral home parking lot. Rep. Jim Beckett is the guest speaker.
A balloon release honoring veterans will conclude the brief program.