Calhoun City will host Eupora Friday in a Class 2A North Semifinal after the Wildcats dispatched Mound Bayou 48-18 on the road last week.
The Wildcats never punted in the game, controlling the line of scrimmage throughout and executing their game plan on both sides of the ball.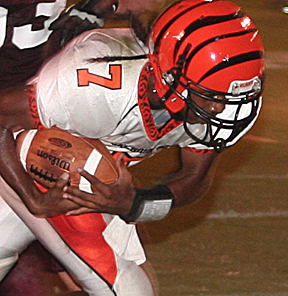 "I thought we were really solid in all three phases of the game," Calhoun City Coach Perry Liles said. "We had one turnover that gave them a short field and they scored off of it, but otherwise we played really well."
Sophomore QB Chakel Gates led the way rushing 20 times for 154 yards and three touchdowns while completing 6-8 passes for 100 yards and a touchdown.
"I thought Chakel, Lavarious (Varnado) and Cartin (McBride) all played really well," Liles said.
McBride rushed for 92 yards and a touchdown. Varnado rushed for 51 yards and had two receptions for 44 yards, including a touchdown.
Seven different Wildcats ran the ball in the win, amassing 399 yards on the ground.
The defense surrendered only 124 yards on the ground and 117 through the air.
Andrekus Ezell led the defense with five tackles. Cyle Havens and McBride each had four.
Steele Liles had a sack. Rainer Nichols had an interception.
J'Shon Coleman had the Wildcats other touchdown.
"It's always good to win on the road," Liles said.
The Wildcats will be looking for a home win this Friday win Eupora comes to visit. The Wildcats won at Eupora in early September 27-6.
"They're playing a lot faster and harder since we played them," Liles said of the Eagles. "That was early in the season. They're a senior football team that's really playing well right now."
The early-season loss to Calhoun City is the only blemish on Eupora's record. They've advanced in the playoffs with a 49-0 first round win over Coahoma County and a 36-8 victory over South Delta last week.
"They're a well-coached team that presents some challenges," Liles said. "We're the only two-seed left in the playoffs so we feel like all the pressure is really on them."