Calhoun City will travel to Mound Bayou for the second round of the Class 2A playoffs after a 50-0 trouncing of O'bannon in the opening round Friday night.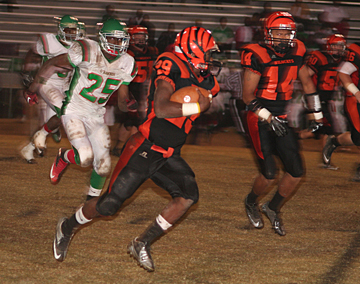 The Wildcats led 14-0 after the opening quarter when Lavarious Varnado scooped up an O'bannon fumble and returned it for a touchdown and a 21-yard touchdown pass from Chakel Gates to Ryne Lee.
A 26-yard touchdown run by Travone Petty, followed by a 2-point conversion when Jordan England threw to Blake Simpson, and a 1-yard scoring run by Gates pushed the lead to 29-0.
O'bannon's Centarus Washington intercepted a Chakel Gates' pass on their next possession on the 7-yard line and returned it to the 37, but three plays later, O'Bannon threw an interception to City's Shaquille Wright who scored from the 35.
Jerrod Ramsey got the two point conversion making the score 37-0 at the half.
A 23-yard touchdown run by Cartin McBride and 20 yard touchdown run from backup QB Jaalen Thomas completed the scoring in the 50-0 final.