Calhoun City Public Library will host a Veteran's program Saturday, Nov. 10, at 10 a.m. at the Calhoun City First Baptist Church Care Center at 213 Taylor St.
This program brings the opportunity to explore battlefields of World War II and meet some of the brave men who were there.
The morning features a film screening of "The Americans On D-Day" followed by veteran testimonies and question and answer session.  Light snacks provided by the Confederate Roses and the Daughters of the American Revolution.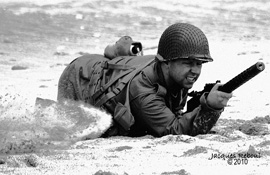 The film is the first installment of The American Road to Victory trilogy, which will be featured on public television stations nationwide this year.
Heidi Mehltretter, executive director for Livingbattlefield.org, said, "There is something magical that happens when veterans watch these films and then share their personal memories with the audience."
Unlike most war documentaries, this series is filmed in the exact locations and weather conditions that existed when the actions took place. A review by the American Legion described the series as, "the next best thing to being there."
The program is part of the Road to Victory Project, a series of independent events held by public libraries to connect communities with their WW II veterans.
The Calhoun City Public Library invites everyone ages 12 and up to share this momentous occasion.  The American Road to Victory trilogy constitutes an important record of wartime memories.