Calhoun Academy Cougars will get their first opportunity to hit a different colored jersey this Thursday night when they host a six-team jamboree.
Marvell, Delta, Strider, North Sunflower, Hebron and the Cougars will each play two 20 minute quarters with the first scrimmage starting at 6 p.m.
The Cougars are scheduled to play North Sunflower at 7:30 p.m. and Strider at 8:30 p.m. Admission will be taken at the gate.
Scrimmage Schedule
6 p.m.      Marvell-Delta
6:30 p.m.  Strider-N.Sunflower
7 p.m.      Marvell-Hebron
7:30 p.m.  CA -N.Sunflower
8 p.m.       Hebron-Delta
8:30 p.m.   Strider- CA
Each scrimmage is a 20 minute running clock.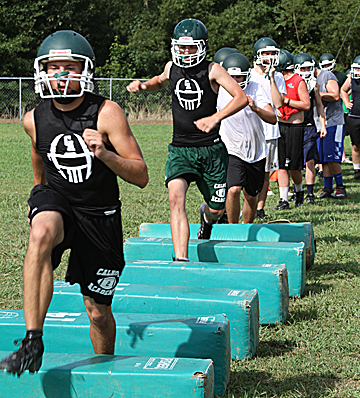 Joseph Boudreaux and J.T. Washington lead the Cougars through the dummies as Calhoun Academy prepares for this Thursday's jamboree and the Aug. 23 season opener versus Humphreys Academy.                                                                    Photo by Joel McNeece