Calhoun Academy spotted Hebron Christian six points and then turned on the offense for a 40-12 homecoming win, setting up a big showdown with number-one ranked Russell next Friday.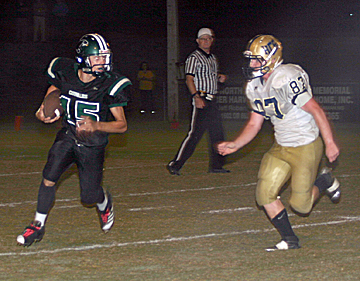 Hebron took a 6-0 lead with a touchdown at the 5:46 mark in the first quarter. Nathaniel Willis sacked the quarterback on the 2 point attempt.
The Cougars answered with a 15-yard touchdown run by Kyle Carter. Hunter Harmon's extra point put Calhoun in front for good 7-6.
With only seconds left in the first half, Carter intercepted a pass and ran it 97 yards to the 2-yard line. He would carry it in on the next play for a 14-6 half-time lead.
Harmon hit Danny Joe Norman on a 20-yard touchdown pass to open the third quarter for a 21-6 lead.
Minutes later the two would connect again, this time from 30-yards out, for a 27-6 advantage.
After Hebron pulled within 27-12, Norman broke loose on a 54-yard run and the Cougars took a 33-12 lead.
Norman then closed the game in the final minute when he intercepted a Hebron pass and returned it 93 yards for a touchdown and the 40-12 final.