Calhoun Academy made the most of their first playoff appearance, dominating visiting Briarfield 44-0 Friday night to advance to the state semifinals in MAIS 8-man football.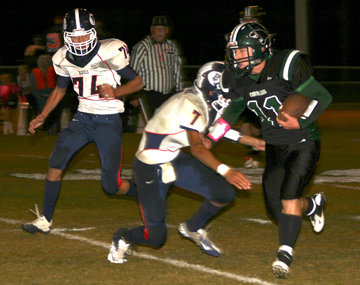 "The boys came out loose and ready to play," Calhoun Academy Coach Tim Melton said. "I was real proud of the overall team effort."
The Cougars, 10-1 and ranked second, will visit Clinton Christian Friday to play for a potential trip to the state championship game.
Clinton, who plays most of their home games at Mississippi College, finished the regular season as the fourth ranked team in the state.
"They have three really good backs," Melton said of Clinton Christian. "They run a lot, but they can throw. We'll have to be real aggressive on defense."
The Cougars didn't lack for aggressiveness last week pouncing on Briarfield very quickly. Kyle Carter recovered an onside kick to open the game. A few plays later, QB Hunter Harmon reached the end zone on a 20 yard run.
After a Danny Joe Norman interception, Carter scored on a 10 yard run. Cameron Bryant scored on the 2-point conversion for a 14-0 lead with 38 seconds left in the first quarter.
The lead grew to 22-0 after Devin Northrip scored on a 25 yard run.
Capitalizing on another Briarfield fumble, Kyle Carter scored on a 5-yard run for a 30-0 score after another successful 2-point conversion.
Seconds later, Carter intercepted a Briarfield pass and then scored a few plays later on a 25-yard pass from Harmon. Harmon would add the 2-point conversion for a 38-0 halftime lead.
Carter would score his fourth touchdown of the game in the third quarter for the 44-0 final.
He finished the game with 205 yards rushing. He also led the defense in tackles with eight.
"He had quite a game," Melton said.