It was a night of big plays for the Bruce Trojans as they took over sole possession of first place in Region 1-2A with a 48-17 win over Baldwyn at Trojan Field.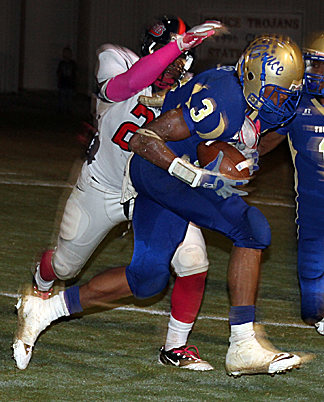 The game was essentially decided in the opening quarter when the Trojans took command with a 73-yard touchdown pass from Davis Brown to Terrance Jones, a 42-yard strike from Brown to Shaq Bush, and a 31-yard interception return for a touchdown by Rashad Turner.
Trailing 20-0, Baldwyn excited their faithful with an 88-yard kickoff return for a score by Laquintez Upshaw, but it was quickly squelched by the Trojans.
On their next offensive play, Brown hit Shaq Bush over the middle who weaved his way through the Bearcat defense for a 76-yard touchdown and a 27-7 lead.
A 65-yard fumble return for a touchdown by Darrian Sullivan would give the Trojans a 34-10 lead at the half.
Bruce would complete the scoring with a 31-yard touchdown reception to Donta Armstrong and an 18-yard TD pass to Bush.
"We all came together tonight and came out with a W," Bush said.
The Trojans will host Okolona next Friday and then finish the season at Calhoun City Oct. 26.