Bruce basketball teams completed a regular season sweep of Calhoun City Friday night. The Lady Trojans started and fast and held off the Lady Wildcats, while the Trojans started slow and charged back late to earn the win.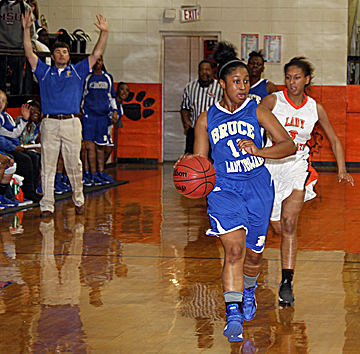 The Lady Trojans started the game on a 9-0 run and would never trail in the 57-46 win.
Bruce led 18-3 after the first period, with Tiesa Steen leading the way with several drives to the goal. She would finish with a team-high 17 points.
A strong second period by the Lady Wildcats pulled them within 28-20 at the half. V.Farmer, who finished with 22 points, had several key rebounds and put-backs to key the rally.
A three-pointer by Alison Childs pulled Calhoun City to within five points, but Lady Trojan Akeshia Norris made three straight steals and drove the length of the court for layups to open the game back up.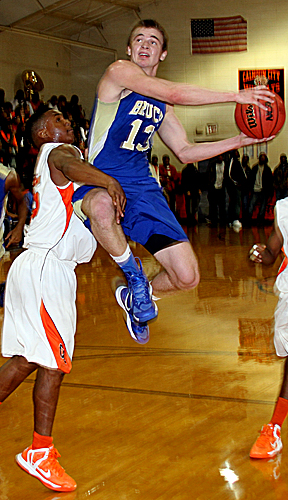 Norris finished with eight points. Akeyshela Tillman scored 13 and Tekia Doolittle, who was key on the boards for the Lady Trojans, scored 12.
"It means a lot (to sweep Calhoun City) but even more to come on the road and get a big win in our first division game," Bruce Coach Seth Burt said. "We're 9-6 overall now. We're hoping we can get hot at the right time. At this time of year it doesn't really matter what your record is. The teams that wind up in Jackson, which is our goal, get hot in January and February."
Lady Wildcats Coach Rob Fox said his team needs to learn from this game and find a few players to step-up from the bench and contribute.
"Some other players have got to bring something to the table," Fox said. "We're going to press people. That's our thing. We need more people stepping up and we have to rebound better than we are."
The boys' game was much closer with numerous lead changes throughout the game. Bruce led by one point after the first period and at the half, but the Wildcats pressure defense keyed a 10-3 run to start the second half to take a 41-35 lead.
Austin Burl led the Wildcats, penetrating the Trojan defense and converting layups. He finished with a game-high 29 points.
Bruce would pull within one to start the fourth period and then took control down the stretch. Jamerron Johnson, Terrence Jones and Rashad Turner led a strong rebouding effort and Taylor Shoemake's shot-making proved crucial down the stretch.
"This is definitely a big win," Shoemake said. "We started slow but we got it together when we had to. I think we're going to get better and better every game. Our teamwork is getting better and better every game."
Shoemake finished with 23 points. Jones scored 20, Shaq Bush 14 and Donta Armstrong, whose ball-handling was key in beating the Wildcat press, added 10.
Brieton Sykes contributed 14 points for the Wildcats. Andrekus Ezell scored nine.
Calhoun City Coach Daren Coffey said the Trojans' rebounding advantage and their poise down the stretch were crucial.
"Bruce really hurt us on the boards," Coffey said. "We didn't execute on offense down the stretch either. We have to learn how to finish games. We are a really young team, but that's no excuse to lose. We just have to be more consistent on offense and defense."
Bruce swept the first meeting of the season in December in Bruce. The Lady Trojans won 63-51 and the Trojans won 69-64.