The Bruce Sawmill Festival released its first official schedule for the July 13-14 festival on the Bruce Square. Among the highlights are the traditional Aqua Queen pageant, musical performances by Jessey Higdon and the Mighty Gospel Warriors, car show, art displays at the Bruce Museum, arts and crafts and the 5K run.
The schedule remains tentative with more performers, political speakers and events to be added over the coming week.
Bruce Sawmill Festival
2012 Schedule of Events
Thursday July 12th
7:00 pm    Aqua King and Queen Pageant – Registration at 6:00 pm, Admission - $2.00
Friday July 13th
On the Square Bruce, MS.
6:00 pm    Bruce Forestry Museum open.  See the progress that has been made and enjoy the A/C.
6:00 pm    Prayer by Tony Tillman, National Anthem by Janae Harrelson, Welcome by Mayor Oakley, Speech by 2012 Sawmill Festival Queen Nicole Duke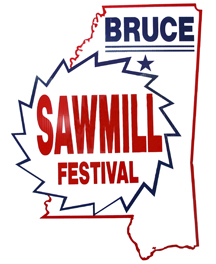 6:15        Lyrix - Variety
7:00        Jesse Higdon - Country
8:30        Mighty Gospel Warriors – Gospel
Festival t-shirts, caps and the Fine Arts Club of Bruce ice cream will be on sale at the Festival tent.  The Rotary Club will sell chances for a Golden Boy Youth model gun. Arts and crafts, children's games and a mechanical bull will be available Friday and Saturday.
Vendors will have a wide variety of items for sale and the food vendors will have a great variety of food for sale.  Lots of great items this year.
Saturday July 14th
7:00 am    Registration for the 5K "Run for History"
8:00 am     5K/2K "Run for History" begins
9:00 am    Sawmill Festival Golf Tournament at Yoda Creek Golf Club, Show and Shine Car Show north of Square
Opening Ceremonies: Prayer by Bro. Rex Wilburn, National Anthem, Welcome by Mayor Oakley, Speech by Sawmill Queen Nicole Duke.
Sarah Longest – Political
9:30 am    Calhoun County Youth
Al Gore – Political
Ramona Tillman - Political
10:30am    Leslie Wayne – Rock 'n Roll
Gary Edwards – Political
Dancing Divas to perform
11:30am    Jesse Betts and Family Circle perform
Tommy Keeton – Political
12:30pm    Ashley Tutor   performs