Oxford Police Department investigators have arrested and charged a Bruce man with making a false bomb report this past weekend.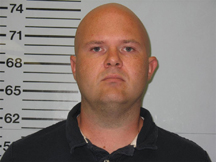 Matthew Allen, 29, was arrested Tuesday and taken to the Lafayette County Detention Center where he was charged with false report of a bomb and booked on a $10,000 bond, according to OPD.
Officers from OPD, the University of Mississippi Police Department, Tupelo Bomb Squad, the FBI and several other area agencies responded to the Oxford Mall parking lot near Malco's Oxford Studio Cinema after a suspicious package was found under a vehicle. No explosives were found in the box but witnesses said a note was inside the box.
Few details were released this morning by OPD on the arrest or how a connection was made between Allen and the package or the possible motive behind the false bomb report.
Story courtesy of Oxford Eagle.