Bruce Junior High Cheerleaders earned first place at UCA camp at Mississippi State last weekend.
Trojan cheerleaders earned 1st in cheer, 1st in sideline, 2nd in band dance, 1st overall , all superior and won the spirit banana out of every squad at camp.
They also had 2 earn All-American (Caitlyn Burt and Anna Taylor Camp) and Sara Grace Parker received the "Pin it Forward" Award by a staffer. Only seven kids at camp got this out of 13 squads.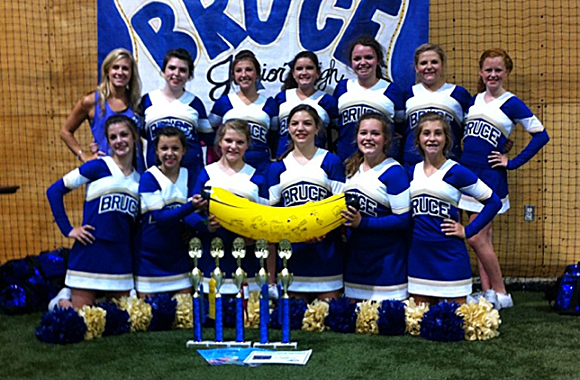 Pictured, from left, back, Coach Amanda Gulledge, Jaden Beth Smith, Caitlyn Burt, Breana Massey, Callie Cain, Tori Campbell, Sara Grace Parker; front, Olivia Ray, Jersey Ferguson, Annie Kate Vanlandingham, Anna Grace Pullen, Camryn Harris and Anna Taylor Cam.