The Bruce Trojans, 6-2 overall and 2-0 in region play, will host Baldwyn Friday in the biggest game of the season thus far.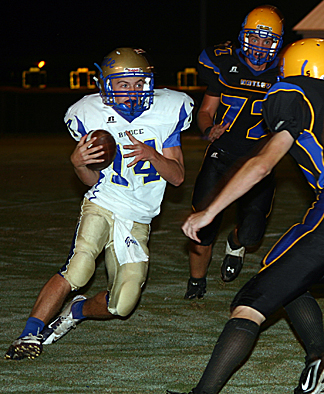 "They're peaking at just the right time," Bruce Coach James Ray said of Baldwyn. "I expect them to show up and play their best football."
Baldwyn enters the game winners of their last four, including region games with Calhoun City and Okolona.
Ray said the key for the Trojans will be blocking on offense and containing the Baldwyn speed.
"We have to maintain our blocks on offense. They're really good up front," Ray said. "Defensively, we have to fly to the ball. They have a lot of speed and we have to get to them before they get into the open."
The Trojans' first two region games have resulted in lopsided victories over Walnut and Hatley. Everybody played in the Trojans' 68-0 win at Hatley last week. Twenty-five different Trojans recorded a tackle in the game that was 54-0 at halftime.
Seniors Jonathan Bobo and Deshawn Tillman led with 10 tackles each. Junior Terrance Jones had seven. Girraud Mingo, Dustin Williamson, and Ben Williams had five. Mingo also had a sack.
Starting QB Davis Brown completed all six of his passes for 212 yards and five touchdowns. Donta Armstrong completed his only pass.
Sophomore D.J. Glaspie led the nine Trojans who carried the football in the game with 77 yards. Sophomore Tyrique Armstrong had 45.
Wide receiver Shaq Bush accounted for three of the Trojans' 10 touchdowns with a 55-yard punt return for a score and two touchdown receptions. Donta
Armstrong had two TD receptions and Rashad Turner had one.
Glaspie rushed for two scores. Brown and Darrian Sullivan each had one.