Bruce hosted a seven-on-seven football tournament for quarterbacks and wide receivers Monday with six schools competing – Bruce, Calhoun City, Vardaman, Grenada, Ackerman, and Eupora.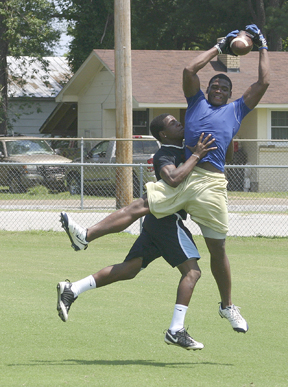 Pictured above is Calhoun City's Demarius Howard pulling in a catch in front of Bruce's DeAngelo Poindexter.
Also pictured is Bruce's Ted Esom leaping high to make a touchdown catch despite the contact from Calhoun City's Lavarious Varnado.
Vardaman's Dewayne Armstrong is shown pivoting after catching  pass against Ackerman.
Visit the photo gallery to see more pictures from the tournament.