Bruce High School is celebrating a "Hippie Homecoming" all this week.
Festivities will include a homecoming parade and pep rally Thursday evening on the square. The parade will leave the school auditorium at 5:30 p.m., and the pep rally will begin when they all arrive at the square.
Friday night festivities will begin at 6:30 p.m. prior to the Trojans' game with Okolona. Kickoff is at 7 p.m.
In addition to crowning the 2013 Homecoming Queen, seniors will also be recognized prior to the game.
At halftime, the school plans to honor all of the students who scored advanced on last year's state tests.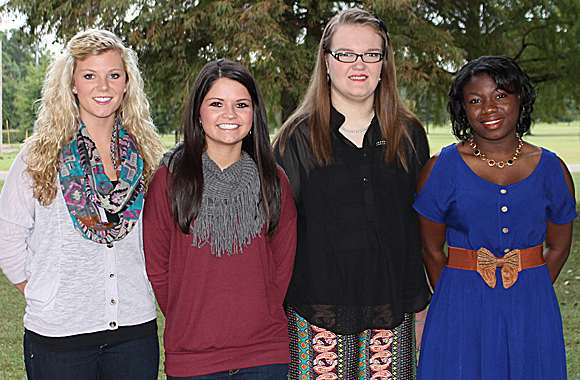 Senior maids at BHS are, Elizabeth Whitten, Mary Beth Collums, Alex Box and Linesha Miller. Their parents are Steve Whitten and Renee Whitten, Gary and Melissa Collums, Ricky and Tracy Box, and Bernard and Camillia Miller.  Photo by Celia Hillhouse