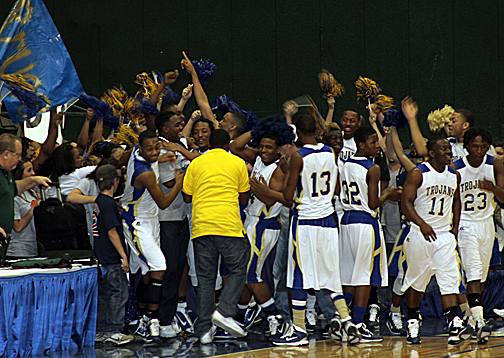 By JOEL McNEECE
The magical season for the Bruce Trojans continued last Saturday as they defeated Richton 61-54 to advance to the school's first state basketball championship game in 20 years.

A tight game most of the way, Bruce pulled away late with strong defense and clutch shooting to advance to the championship game Friday, March 4 at 2:30 p.m. against Piney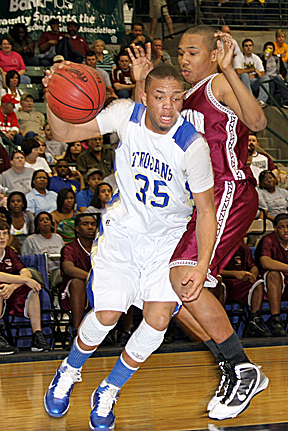 Woods.
The Trojans, who led most of the game by two-six points, were up two at the three minute mark when they went on a 9-0 spurt to put the game away.
"It was crunch time and I told our guys to just keep their heads up and keep playing," said Bruce's Devin "Pookie" Tillman (pictured), one of two seniors on the team. Tillman scored 14 points in the victory.
His brother Jarvis "Maine" Tillman, led all scorers with 19 points. Bruce point guard Donta Armstrong added 10 points.
"We know our strength is getting the ball inside to our big guys and letting them work for us," Coach Davin Young said. "That proved the case today."
The Trojans charged toward the large throng of BHS students in the corner of the court as the buzzer sounded to celebrate the school's first win in the coliseum since 1991. They lost to Stone County 67-65 that year in the 3A title game.
They will face the top-ranked team in 2A in Piney Woods next Friday, but that wasn't a concern Saturday afternoon as the crowd chanted "B-Town" as players leapt into each others arms celebrating a berth in the 2A championship game.