The Bruce Trojans improved to 2-0 on the season making easy work of Potts Camp Friday night 39-8.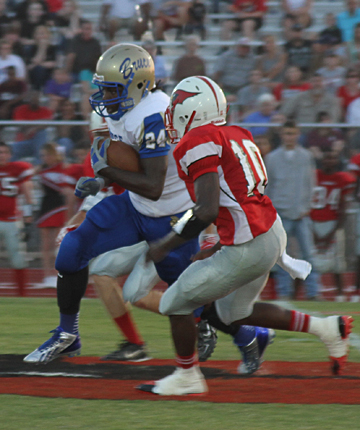 The tone of the game was set on the opening kickoff when Darrian Sullivan caught the kickoff at the 20 yard line and raced right down the middle of the field 80 yards for a touchdown. The extra point missed for a 6-0 lead.
The Cardinals first possession ended with a big hit by Trojan Jamar Brown, forcing a punt. Bruce then easily marched 68 yards for a touchdown, scoring on a 15-yard run by QB Donta Armstrong. A bad snap on the extra point try forced Armstrong, who was holding, to scramble right into the end zone for a two-point conversion and a 14-0 lead.
Armstrong would pass to Tyler Donovan for a 32-yard touchdown to cap the Trojans' next possession. Bruce led 20-0 after the missed extra point.
It was mid second quarter when Bruce increased its lead to 26-0 after Jay Johnson caught a Potts Camp punt and zig-zagged his way through the Cardinal tacklers on a 55-yard punt return for a touchdown. The extra point again missed.
LaTrell Marks set up the final Bruce score of the first half when he hauled in an interception and returned it to the Potts Camp 1-yard line. Armstrong scored on a keeper on the next play for a 32-0 halftime lead.
Bruce played mostly JV in the second half and they added one score near the end of the third quarter.
Ladarius Benson caught a tipped pass from Cameron Clarke and ran 43 yards for the touchdown. A successful extra point gave the Trojans a 39-0 lead entering the fourth quarter.
Potts Camp RB Jordan Harris scored on a 10-yard run late in the game for the Cardinals' only score in the 39-8 final.
Bruce returns home next week to face Coffeeville.