By JOEL McNEECE
Bruce and Calhoun City are separated by only 10 miles, but tonight they will both drive 85 miles to face each other in the Region 2-2A Championship at West Lowndes High School.
Calhoun City and Bruce both cruised to easy wins in Friday's semifinals to advance to the region title game tonight at 8:30 p.m.
The top-seeded Wildcats, 19-10, made quick work of East Webster opening a 16-point halftime lead en route to a 73-43 win. Dominique Cook led the Wildcats' balanced scoring attack with 12 points. Adante Phillips and Demarius Howard both scored 11. J.R. Jennings added 10.
Bruce faced a stiffer challenge in tournament host West Lowndes, who defeated the Trojans in their only regular season match-up. The Trojans, 16-5, maintained a narrow lead throughout the first half. They led by one after the first period and three at the half. The Trojans then dominated the third period, outscoring the Panthers 25-10 and continued to pull away for the 91-71 victory.
Devin "Pookie" Tillman led all scorers with 26 points. His brother Jarvis "Maine" Tillman scored 20. Shaq Bush added 17 and Keron Bell 15.
The wins for the Trojans and Wildcats not only put them in Saturday night's championship, but also guarantee both a home game next Tuesday in the opening round of the North Tournament.
The top-seeded Bruce Lady Trojans, 17-8, held serve in the region tournament blowing out West Lowndes 67-34 to advance to tonight's 7 p.m. championship. They also clinched a home playoff game next Monday in the opening round of North Half.
Jasmine Hampton led Bruce with 12 points. Morgan Vickery scored 11.
Calhoun County was denied a complete sweep when the Calhoun City Lady Wildcats were upset by Hatley 47-44 in the first semifinal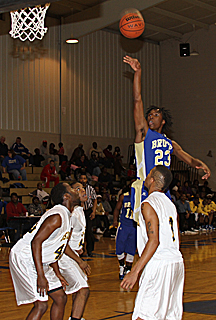 Friday night.
Sarica Coffey led the Lady Wildcats with 16 points and Allison Childs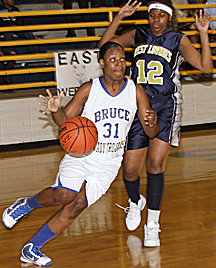 chipped in 10.
The Lady Wildcats will face West Lowndes in Saturday's consolation game and will be forced to the road next Monday in the opening round of North Half.