Bruce swept Calhoun City in boys' and girls' basketball Friday night in the first matchup of the season between the two rivals.
Bruce won the girls' game 63-51with Tiesa Steen leading all scorers with 23 points. Munchy Tillman added 12 for the Lady Trojans who improved to 5-3 on the season.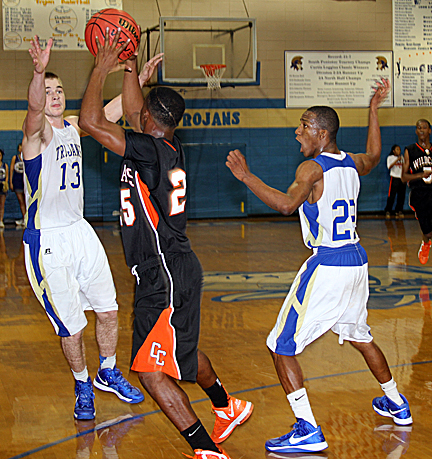 V'lenchia Farmer led Calhoun City with 13 points, followed by Destiny Bush with 12 and Alison Childs 10.
Bruce won the boys' game 69-64 after rallying from a 10-point halftime deficit.
Taylor Shoemake led the Trojans with 22 points. Terrance Jones and Donta Armstrong each scored 12. Shaq Bush recorded 10 points.
Calhoun City was led by Austin Burl with 23 points. Chakel Gates scored 10.
Earlier in the week Bruce split games with Nettleton.
The Trojans won 65-46 with Taylor Shoemaker leading the way with 19 points. Shaq Bush added 11 and Justin Flemons 10.
Nettleton was led by Demetrius Thomas with 25 points.
The Lady Trojans were defeated 55-34. Tiesa Steen scored 19 for Bruce. Jayla Pounds had 16 for Nettleton.
Saturday, the Wildcats were defeated by Kossuth 60-41 in the Doc Vandiver Classic.
Chakel Gates scored 10 for the Wildcats. Josh Whitaker led Kossuth with 24.