Bruce made easy work of Okolona Friday night defeating the Chieftains 48-6 in the final regular season home game for the Trojan seniors.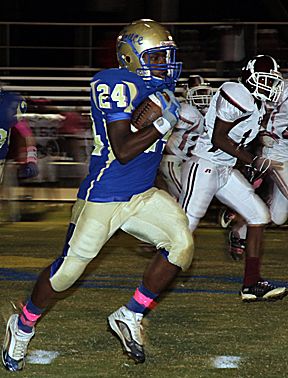 The win locked up no worst than a second seed for the 8-2 Trojans when they begin the post season in two weeks. Next week they face rival Calhoun City with the Region 1-2A title on the line.
The only way Bruce could finish second in the region is to lose to the Wildcats by seven points or more.
Bruce showed no signs of looking ahead Friday night as they routed visiting Okolona.
A 5-yard touchdown run by Zay Armstrong and 52-yard interception return by Jonathan Bobo for a score gave Bruce a 13-0 lead after the first period.
Terrance Jones sacked Okolona's Jacolbi Heard in the end zone for a safety to begin the second quarter. That was followed by a 32-yard touchdown strike from Davis Brown to Rashad Turner and a 3-yard touchdown run by Zack Cruthirds.
Leading 28-0 to open the third quarter, the Trojans extended that margin with a 9-yard touchdown run by Zay Armstrong and a 3-yard scoring pass from Brown to Turner.
The final score came on a 5-yard run by Cruthirds.