The Bruce Trojans made easy work of East Webster last Friday winning 35-7 to advance to the Class 2A North Half Semifinals this week against West Bolivar.
Bruce will host the game at Trojan Field. West Bolivar, the defending state champion, has eliminated Bruce from the playoffs two of the past three years.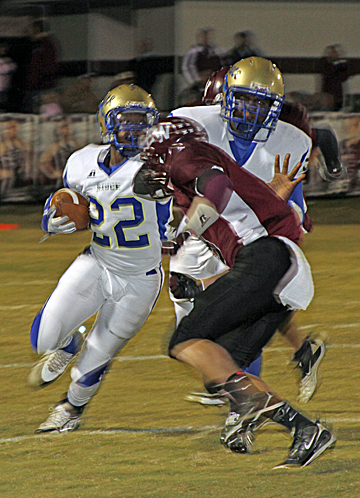 "We've got West Bolivar at our house," Bruce Coach James Ray said. "That's what we wanted."
The Trojans, 10-3, never trailed at East Webster jumping on the Wolverines with two first quarter touchdowns – a 4-yard run from Zay Armstrong and a 21-yard pass from Davis Brown to Shaq Bush.
"This was a very physical game tonight," Zay Armstrong said. "They got a little riled up when we went ahead. They played hard. We played hard and the best team won."
East Webster's lone score came at the beginning of the second quarter on a 1-yard run by Wilbur O'Bryant to cut the Bruce lead to 14-7.
The Trojans answered with a 1-yard QB sneak from Brown for a 20-7 lead at the half.
They opened the second half with another scoring drive – a 39-yard pass from Brown to Donta Armstrong.
Brown would connect with Armstrong again in the fourth quarter on a 42-yard pass for a touchdown.
"We started off 14-0 and then had some ups and downs tonight," Donta Armstrong said. "Coach told us we had to find our power and we did. We turned it up and got it done."