Bruce and Calhoun City will meet for the 63rd time Friday night when the Wildcats host the Trojans at D.L. Harrison Field with a region championship on the line.
Calhoun City must beat Bruce by at least seven points to earn the region title and a top seed entering the playoffs. Anything less, and the Trojans win the region and one-seed. Bruce is guaranteed no worse than a two seed.
A loss by Calhoun City would make them the third seed and likely send them to South Delta to open the playoffs next week.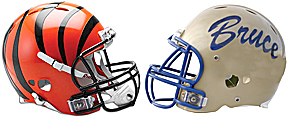 "We can't afford to think about playoffs or points," Calhoun City Coach Perry Liles said. "We're just hoping to get a win by any margin."
"I always consider a win against them (Bruce) something to really cherish, because it's so hard to get," Liles said.
They've come easier of late for the Wildcats who have won the last five in the series, dating back to 2005. The schools didn't play in 2007-08 when the
Wildcats dropped to Class 1A. Bruce still leads the overall series 36-24-2.
"It doesn't take living here very long to realize how big this game is," Bruce Coach James Ray said. "It never seems to matter who has the better record or who is favored. It's always who plays the hardest for four quarters, and almost all of these games are close."
Seven of the last 10 games have been decided by a touchdown or less.
Opposite the past few years, this year it's Bruce who comes in as the favorite, ranked third in the state and unbeaten in region play where they've outscored the competition 219-23. Calhoun City is 3-1 in region having outscored the opposition 132-27.
"Bruce is a really talented. They're a big-play team, but not just on offense," Liles said. "They make big plays with turnovers and on special teams also."
The Trojans, whose only losses have come to Class 3A Water Valley 17-16 and 4A Houston 21-6, are averaging 40 points per game.
"We have to try and slow the game down," Liles said. "We need to keep their offense off the field. They're going to get some points, but we have to try and minimalize that and not turn the ball over."
Ray said the Wildcats are a lot better team than most think.
"(Chakel) Gates is as good a quarterback as we've seen all year," Ray said. "(Lavarious) Varnado is an explosive runner. They've got a lot of talent."
The Wildcat defense is only allowing six points a game this year to 2A competition.
"They do a lot of things defensively that will give us problems," Ray said.
Kickoff will be at 7 p.m. Friday at Calhoun City.
Each team will host pep rallies Thursday night. The Calhoun City pep rally will be at 7:30 p.m. Thursday on the square at the conclusion of Octoberfest.
Bruce will host a pep rally/bonfire Thursday at 7 p.m. in the parking lot of Trojan Field.
SERIES?NOTES
•Bruce leads series 36-24 with two ties.
•Calhoun City has won the last five matchups. Bruce had won the previous five games.
•The longest win streak in the series is    eight by Bruce from 1972-79. Calhoun City's longest in the series is their current streak of five.
•There have been two overtime games in   the series, both won by Bruce – 10-7 in 1996 in the North Half Championship; 20-14 in double-overtime in 2002.
•There have been two playoff meetings, both for the North Half Championship. Calhoun City won 6-0 in 1995. Bruce won 10-7 in 1996 in OT.
•Most points scored by one team was by Calhoun City in 1930 when they won 60-6. Bruce's biggest scoring game was 1979 in a 42-20 win.
•Bruce has 13 shutouts in the series. Calhoun City has six shutouts over Bruce.
•Average score: Bruce 15, Calhoun City 13