Bruce and Calhoun City softball teams will clash Wednesday night at Bruce Park with the region title and a bye in the first round of the playoffs on the line.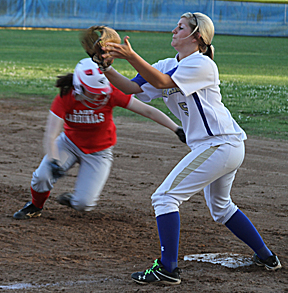 The Lady Wildcats, 10-9 overall and 5-0 in region, won the first meeting by one run with a rally in the bottom of the seventh.
The Lady Trojans, 8-7 and 4-1 in region, will have to win by at least two runs to earn the region crown.
The region winner will have a week off and begin playoff action on Friday, April 26.
The second place team will begin post season play this Friday, likely against Coahoma County.
"Both teams gave up a lot of runs on errors the first game," Calhoun City Coach Josh Hegwood said. "The least amount of mistakes usually comes out on top in this matchup. I don't expect that to change."
"We can't give them extra outs and we have to put the ball in play," Bruce Coach Seth Burt said. "Whomever puts the ball in play more I think will win."
Wednesday's game will end the regular season for the Lady Trojans. Calhoun City is scheduled to play West Point Thursday.