By JOEL McNEECE
The bell rings signalling another customer stepping through the door. Seventy-nine-year-old Bill Russell, with his glasses perched halfway down his nose, drops what he's doing to greet a friend.

When you've been doing the same thing for 50 years, Russell will tell you it's rare a customer walks in that's not a friend.
"We've had a lot of great customers over the years – very loyal," Russell said. "A lot of good friends."
Russell took over Western Auto on the south side of the Bruce Square in 1960. He was trained for the business under the tutelage of W.B. "Kim" Kimzey in Calhoun City. Russell worked for his Western Auto store on the southeast side of the Calhoun City Square for years.
"Later we moved over to the Luther Davis building by Mississippi Valley Gas," Russell said.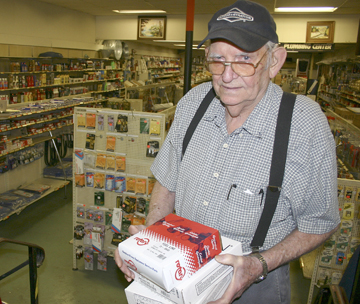 When approached by a Western Auto sales person to take over the store in Bruce, Russell decided to make the move.
W.M. Crocker had operated the Western Auto store in Bruce since 1939. Russell took over the business in 1960 and leased the building until 1970, when he bought it out right.
Next door was Gordon's Blackcat, a dry goods store. That signage was recently revealed when Russell had the facade of the two buildings removed as part of a project to put up a new awning on the business.
Jack Yancy opened a "5 and 10 cent" store next door after Gordon's. TWL later moved into that location. When TWL moved into the Bruce Company building, Russell purchased the neighboring building and expanded his business.
It wasn't his first expansion. When he first moved into the building his store consisted of only the very front portion of his current business. He took on a series of expansions over the years that has increased the size of his store by more than five times the original.
Russell sold everything from women's nylon hose to furniture during his days as a Western Auto dealer, but he undertook the biggest change of his career when Western Auto went out.
The Western Auto brand is now owned by Advance Auto Parts. Russell signed a waiver to allow him to continue operating under the name.
"The automotive parts business really never appealed to me," Russell said. "So I began concentrating on the lawnmowers, hardware and appliances."
Lawnmower parts are probably what he's most known for. Customers routinely come into the store describing the problem they're having, and Russell quickly points out what they need.
Russell's wife Hazel works in the store. His son Mike did as well ever since graduating high school. Mike did most of the hands-on lawnmower and weedeater repair. Mike recently left the business to take a job with the North Mississippi Regional Center doing the kind of maintenance work he's done for years at the store.
"It was a good opportunity for Mike allowing him to do what he's learned here all these years," Russell said.
Other proteges of Russell have included Ed Spearman, Alan Prestage and William Ruth.
"William was a mainstay here for years," Russell said. "We've had a lot of great employees over the years. I couldn't begin to name all of the high school students that have worked here."
Russell has always been the constant, opening the doors at 7:30 a.m. every day, Monday-Saturday.
"That's a pretty regular schedule for an old man," Russell said with a grin.
"I've lived through some of the most drastic changes men have ever seen," Russell said. "I remember when the ice man would come around selling blocks of ice asking if you wanted a 25 or 50 pound block."
Russell said when he was a kid you could hear a plane coming from miles away.
"They sounded like a Harley Davidson going over and you could watch them it seemed for 10 minutes before they were out of sight," Russell said. "Now they're so high you never even notice them flying over."
"A lot has changed over the years," Russell said, except at his Western Auto store. He's still there every day as he has been for the past half century.
"I was originally going to retire at 55," Russell said peering over his glasses. "That was 25 years ago."
Russell is advertising the business for sale, but he'll continue working until it does.
"I'm ready to move on if the opportunity came along," Russell admitted.
In the meantime, he keeps doing what he's done for so long – helping his customers.
"Helping people is why I do this," he said. "Somebody comes in with a problem and I surprise them with the part they need in stock. I still enjoy that. If I could go back 50 years, I'd do it for another 50."