Area baseball programs are preparing for the fast-approaching 2013 season with facility improvements among the top priorities currently.
Work continues at Odis Logan Field at Bruce Park where a new outfield fence was just completed last week, including the installation of new signs highlighting last year's state championship.
Bruce Coach Josh Dowdy said plans are to replace more fencing down the lines prior to the season.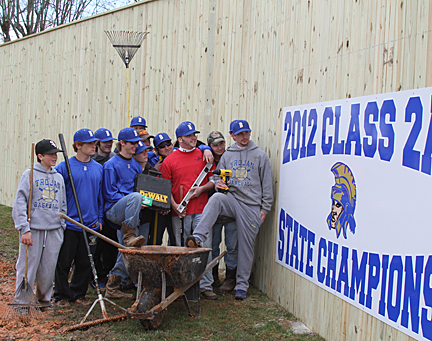 A lot of painting is also on the agenda, including the press box and a large "B" on the centerfield fence.
A new scoreboard is also scheduled to be installed before the first home game on March 1.
The Trojans will open the season Feb. 16 in the Ingomar jamboree.
Vardaman has also replaced its outfield fence and done other repairs around the facility in preparation for the upcoming season.
The Rams will host an alumni day Saturday, Feb. 16 at the field that will include a home run derby at 12:30 p.m., alumni game at 2 p.m., silent auction, barbeque and more.
Proceeds from the event will go toward new uniforms.
For more information call 662-456-6446 or 682-7574.
The Rams will begin play on Feb. 23 in the Caledonia tournament.
Calhoun City is also working on new uniforms for the 2013 season.
The Wildcats have made some major facility improvements over the past two years, including the construction of an indoor facility.
Calhoun City will host its annual preseason baseball banquet Thursday, Feb. 14 at 6 p.m. in Pittsboro.
The event will include introductions of all the players and live and silent auctions. All proceeds will go toward the uniforms.
Calhoun City opens play Saturday, Feb. 16 at South Pontotoc.
Calhoun Academy is also working to prepare their field for the upcoming season. They open play at home on Feb. 21 with a double-header against Immanuel.