Calhoun City jumped out to a 14-0 lead but saw Baldwyn rally for the win Friday night in the Region 1-2A opener for both teams.
Baldwyn was threatening to score on the opening drive of the game before Travone Petty picked off Bearcat QB Corbin Scott and returned it 78 yards for a touchdown.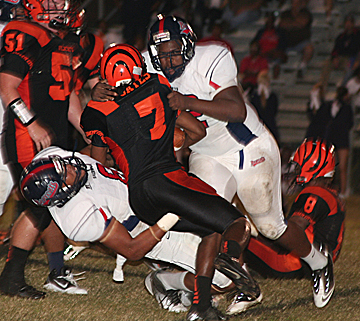 After forcing a 3-and-out on Baldwyn's ensuing possession, Calhoun City extended the lead to 14-0 with their first offensive possession of the game on a 3-play, 63-yard drive.
Lavarious Varnado opened the drive with a 14 yard run and then QB Chakel Gates carried it 21 yards. Brieton Sykes then completed a halfback pass to Andrekus Ezell for a 28-yard touchdown. Jordan England's extra point lifted the Wildcats in front 14-0.
On the only other scoring threat in the first half, Cartin McBride intercepted Scott's pass for the Wildcats.
The Bearcats recorded their first points in the third quarter when a punt pinned the Wildcats back at their own 5-yard line. Two plays later, Varnado was tackled in the end zone for a safety to cut the 'City lead to 14-2.
That score held until early fourth quarter when Baldwyn drove 86 yards in nine plays for a touchdown. The score came on a 2-yard run by Bradley Boose. The extra point pulled Baldwyn within 14-9.
The deciding score came with 2:48 left in the game. Will Moore returned the Calhoun City punt 55 yards for a touchdown. The 2-point conversion failed for a 15-14 score.
A 25-yard run by Varnado carried Calhoun City to midfield on their next possession, but Gates was then intercepted to end the game.
The Wildcats dropped to 3-4 on the season and 0-1 in Region 2-2A while Baldwyn improved to 4-3 and 1-0.
Calhoun City travels to Walnut next week.