Before you dig into your next outdoor project, Atmos Energy Corporation is reminding every homeowner, construction crew and do-it-yourselfer to call 811. The reminder comes as utilities across the nation recognize August 11, 2013, as 811 Day.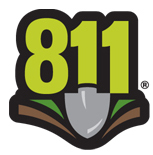 "It's the law in every state we serve," said John McDill, Atmos Energy vice president of pipeline safety. "The 811 program can save you time and money as well as prevent threats to life and property."
By calling 811, homeowners and contractors are connected to their local one-call center, which notifies the appropriate utility companies of their intent to dig. Professional locators are then sent to the digging site to mark the locations of underground utility lines with flags, spray paint or both.
"The greatest risk to underground natural gas pipelines is accidental damage during excavation," McDill said. "Even minor damage such as a gouge, scrape, dent, or crease to a pipeline or its coating may cause a leak or failure. To protect pipelines and other underground facilities, the law requires that all excavators call 811 between two and ten days before excavation work begins on public or private property."
Installing a mailbox, building a deck, planting a tree and laying a patio are all examples of digging projects that need a call to 811 before starting.