By JOEL McNEECE
Andrew Bryant never dreamed of being a big rock star, he's just always wanted to play his own music for people. He's found that opportunity as he's grown into one of the more sought after artists in the Oxford-Memphis music scene.

Bryant was raised at Oldtown, halfway between Bruce and Pittsboro, and still lives there with his wife Natalie and 2-year-old son Levi.
"I used to do a lot of recording late at night after Natalie went to sleep," Bryant said. "I can't do that anymore with a 2-year-old."
Bryant, 30, is the son of Richard and Paula Bryant. He said his first exposure to music was in church.
"My parents always took me and my brother and sisters to church," Bryant said. "We always had a piano in the house, and my mom would play and we would sing hymns. That's still my biggest musical influence today, singing hymns with my mom."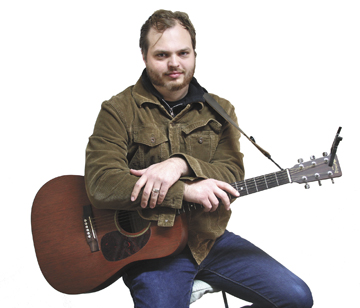 Singing church hymns created the urge to play an instrument, so Bryant's mother signed him and his sister Audrey up for piano lessons with Annette Woodson.
"Audrey was really good. I was horrible," Bryant said. "I would get frustrated, because I couldn't read music. I just wanted to play everything by ear."
He became more curious about the piano keys and notes, and his mother taught him how the musical chords went together.
"I remember the day, sitting at the piano and thinking 'I've got it,'" Bryant said. "Once I grasped that, I taught myself to play bass and then guitar. Once you understand musical notes and have an ear for it, it's just a matter of picking up the instrument and practicing."
Bryant's family was attending a church in Houston at age 13 when the preacher said he would really like a drummer to play with the music to add something extra to the service. Bryant quickly said he'd do it.
"I had never played drums in my life. I guess you can deduce it down to my first real musical performance came from lying to a preacher," Bryant laughed. "It really wasn't lying, though. I knew I could do it."
The church had a drum kit Bryant was allowed to take home to practice on. The next Sunday he played in front of the church.
"It was a great experience," Bryant said.
Not long after finishing high school Bryant bought his first electric guitar and amp.
"At that time I was listening to a lot of rock music, so I would just play along with it," Bryant said. "Then I naturally evolved into writing my own songs."
He began recording demos on cassette tapes in his bedroom. His first time to play his own songs live was in Tupelo at the Court Street Pool Hall. He was 19.
He then hooked up with a band called "Never Cry Wolf" and would play with a couple more over the next few years, performing mostly in clubs all over Memphis and the region. By 2004, after six years in various bands, he decided he was ready to do his "own thing."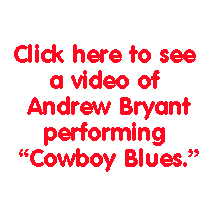 His music, which has been described as "kudzu-covered rock" to a mixture of country and blues – had caught the attention of Matt Arbogast – The Gunshy – a well- known musician in the region who operates his own label.
"That was really a big thing for me," Bryant said. "He liked my stuff and helped me to keep playing and put out an album on his label."
It wasn't long after that Bryant reached the point he could tour himself as the headline act. He then cut his second album "The Magnolia State" on his own record label. On "Magnolia State," Bryant performed all original songs and played all the music consisting of guitars, bass, piano, organ, mandolin, banjo, violin, Blues harp, accordion and some percussion.
He was becoming heavily sought after by musical venues in the region, even performing on Thacker Mountain Radio.
By the summer of 2009 he was touring nationally.
"We did 47 shows in 50 days," Bryant said.
When he wasn't touring, he was in school at Ole Miss, where he graduated with a degree in history. He would also work whenever he could with his dad at the sawmill or his uncle, Benny Bryant, at Old Town Truss.
Now he's also working part-time with Two-Stick in Oxford helping them book acts and manage their sound system.

Bryant is also in the process of recording a new album while looking to apply for graduate school to seek a masters in creative writing.
"I'd really like to get more into writing, possibly publishing a book one day," Bryant said. "I like to think of myself as more of a writer than a musician. It's really more about the words and poetry for me. Music is just a form of poetry."
Bryant said he's often flooded with words and ideas, so putting on paper or into music is a natural outlet for him.
"I always want to be creating something," Bryant said. "That's the payoff."
He explained he would love to make enough money off music to live on, but that's not his primary motivation.
"There's a lifestyle that comes with that – constant touring – that doesn't appeal to me," Bryant said. "I would rather just be able to consistently play my music for people who enjoy it. I feel like I'm living the dream right now."